When I was growing up, I remember going to national parks, aquariums, and taking factory tours with my parents. As a kid I thought it was so interesting how the tour always managed to end in the gift shop.
How neat!
As an adult, gift shops kinda creep me out, to be honest. You may have enjoyed the most beautiful hike through a cave system, or learned about rare species of butterflies...but then to be confronted by over-priced trinkets, over-sized stuffed animals, and magnets galore...it is not the lasting taste I want to remind me of my adventure.
And as a parent, I don't want a magical adventure to end in tears because I refuse to buy said trinkets, stuffed animals, and magnets.
Our girls are still a bit young to fully understand the tradition I'm imparting, but I'm encouraging them to collect postcards. Having collected them myself as a kid, I think a postcard is an awesome reminder of almost any kind of adventure. It's easy to store, and at usually less than $1 each, it's economical, too.
To reinforce our adventures this summer, I helped the girls each start a scrapbook to keep their postcards. When they get a little older, I hope they'll journal about what they saw. Until then, I've tried to think of little art projects they could do to complement their postcards.
Here are the pages from our visit to an aquarium this summer...
I cut out fish shapes in various sizes and colors and let the girls glue them to a piece of card stock, representing the many different types of fish they saw swimming together.
And here, from a state park we visited with Granddaddy and Emme...
The girls' favorite part of the visit was riding the train. I used my Cricut to cut the letters CHOO-CHOO, and had them glue them under their postcard.
And here, from our first visit to the zoo...
I cut pieces to make grass, a tree, and a sun, and had the girls glue them down. I bought them each an inexpensive pack of stickers with zoo animals. My sticker-loving girls really had fun with this one.
The girls have had a blast crafting, and they love to look at their scrapbooks. And I love that we not only have a reminder of what we did and when, but a sample of the girls' handiwork at the time, as well.
I'm linking up with Charlene at
Adventures-in-Mommy-Land
for "Hey Mom, Look What I Did".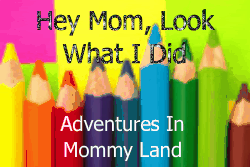 Head over to check out what other moms are up to with their kiddos this week...and check back with Charlene often, as she posts so many great crafty ideas every week.